The Slow Miracles Campaign

The Father McKenna Center is pleased to announce the public launch of The Slow Miracles Campaign.
The Slow Miracles Campaign is an effort to raise $4,500,000 to underwrite a total renovation of the lower church at St. Aloysius so that the Center can better serve the men and families who rely on us each day.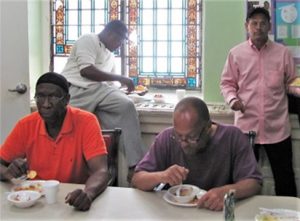 The Need
For the past seven years the Center has been the sole tenant in the Lower Church. The spaces were not designed for social services delivery.
Currently, demand for meals is so great that guests must often stand while they eat. Over 100 men share three bathroom stalls. Limited space means that group counseling sessions do not have privacy. Our staff have makeshift offices in closets. Our Food Pantry occupies a cramped, low-ceilinged area without heat or air conditioning, which is bad for the food and even harder on the patrons!
To view a 6-minute video on the need for renovations please click here.
The Solution
To resolve the deficiencies in our space, the Center will undergo renovations to renew and revitalize the Center. These efforts will produce the following: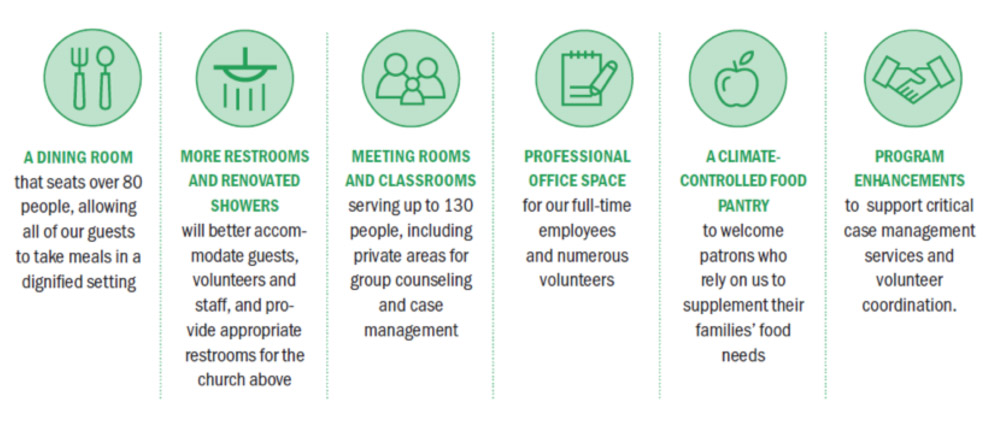 The Plan
For three and a half years Kim Cox, the President of The Father McKenna Center, has worked with Gonzaga College High School, the Center's Board of Directors, architects and project managers to plan the renovations.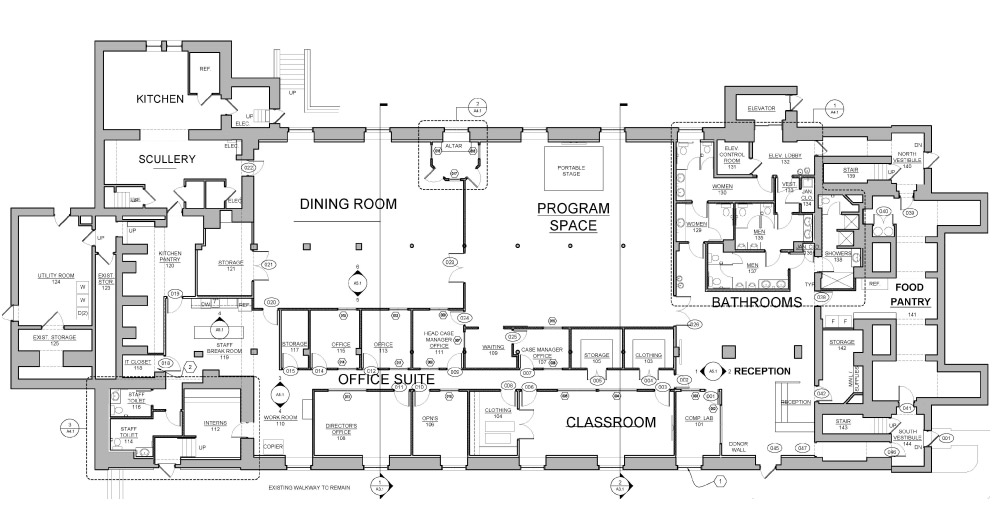 What Changes will be Made?
Beginning from North Capitol St (the far right of the schematic, and going counter clock-wise) 
Reception Area – we will have a new welcome center for all who visit the Center.
Bathrooms – we will have four stalls and four urinals for men and three stalls for women that will serve our guests and those who attend services in the Upper Church.
Program Space – we will have space for large group sessions that will seat up to 120 people.
Dining Room – we will be able to seat up to 84 in our new dining room (pictured right). 
Office Suite – we will have new offices that will accommodate an expanded staff to better serve those who rely on us each day.
Classroom / Meeting Space – we will have a small, private space where small group sessions can meet -these small group sessions are proving very productive for our guests (pictured left).
Food Pantry – we will heat and air condition the space, and improve lighting and the atmosphere.
Progress to Date
Click here for a virtual "Hard Hat Tour" of construction to date, along with comments from our Honorary Co-Chairs and Cortez McDaniel, Director of Services.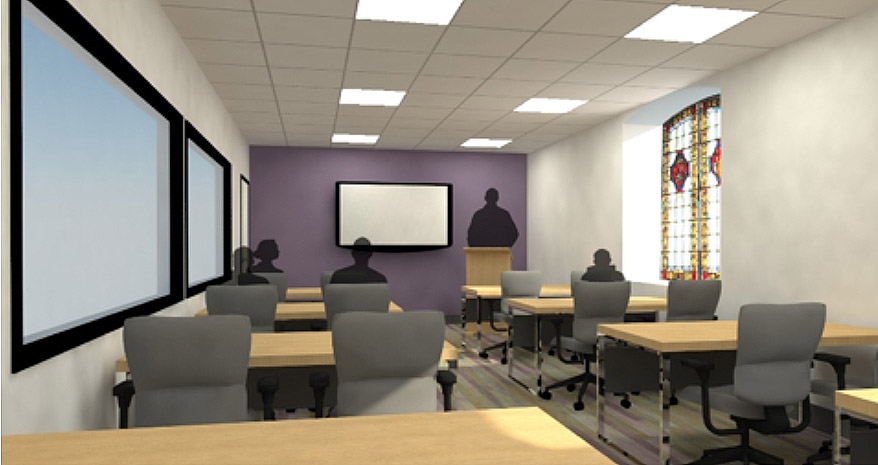 How You Can Help
The Campaign has begun well. With great leadership from our Capital Campaign Committee we have raised $3,500,000 of the $4,500,000. We need you to consider making a gift to the Campaign. We are accepting pledges to be paid over three years, and all gifts of $1,000 or more will be acknowledged on the "Donor Recognition Wall."
To make a gift, click here.

If you need more information, or would like a tour of the Center, please contact Ned Hogan or call (860) 559-0396.