December 2018 | Inaugural Lessons and Carols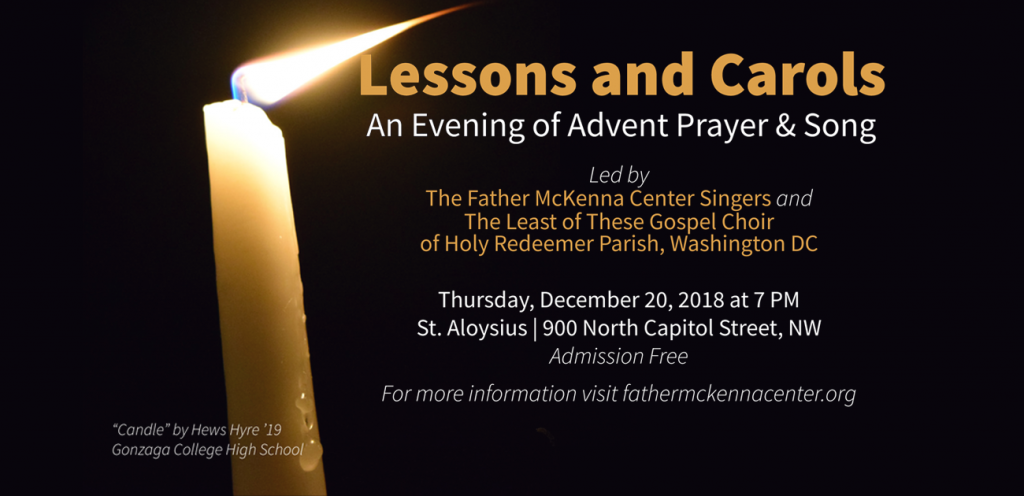 Announcing the Inaugural
Lessons and Carols
For the Father McKenna Center, Washington DC
---
The Father McKenna Center is proud to present its Inaugural service of LESSONS AND CAROLS. Led by a choir of men from our Day Program, this celebration will be a memorable evening of Advent Prayer & Song.
The Public is Invited!
What: LESSONS AND CAROLS: An Evening of Advent Prayer & Song
Presented by The Father McKenna Center and the
Jesuit Community of St. Aloysius Gonzaga
When: Thursday, December 20, 2018 | 7:00 p.m. (Approx. 1 hour)
Followed by a cookies and punch reception
Where: St. Aloysius Church
900 North Capitol Street, NW
Washington, DC 20001-1425
Parking available in the Gonzaga High School parking structure.
(Enter from 1st and I Streets NW.)
Cost: Free
Free-will donations to support the work of The Father McKenna Center will be graciously accepted.
Project Description:
A century ago, 34-year-old Eric Milner-White, the newly appointed dean of King's Chapel (Cambridge, England), developed a creative way for residents from Cambridge University and its local city to celebrate Christmas beyond the standard liturgy of the Church of England. By weaving scripture with song and drawing upon a variety of participants, this service not only became a way for people to begin healing from the recent devastation of World War I, but also, through annual BBC broadcasts, developed into a tradition which many communities adapted for their own Advent and Christmas celebrations.
This year, one hundred years later, The Father McKenna Center of Washington DC proudly presents its service of LESSONS AND CAROLS which hopes to bring together, in worship and celebration, the men of The Father McKenna Center who struggle with homelessness, the staff who work on their behalf, and the community who supports them.
Contacts: Dr. Kim Cox, President
(kcox@fathermckennacenter.org)
Mr. Cortez McDaniel, Director of Services
(cmcdaniel@fathermckennacenter.org)
Fr. Phillip Ganir, S.J., Lessons and Carols Co-Producer
(pganir@jesuits.org)
Followed by a cookies and punch reception
Where: St. Aloysius Church
19 I Street NW
Washington, DC 20001-1425
Parking available in the Gonzaga High School parking structure.
(Enter from 1st and I Sts NW.)
Cost: Free
(With an option for a free-will donation for the McKenna Center)
(The McKenna Center is an independent 501(c)3 organization.)
Contacts: Dr. Kim Cox, President
(kcox@fathermckennacenter.org)
Mr. Cortez McDaniel, Director of Services
(cmcdaniel@fathermckennacenter.org)
Fr. Phillip Ganir, S.J., Lessons and Carols Co-Producer
(pganir@jesuits.org)