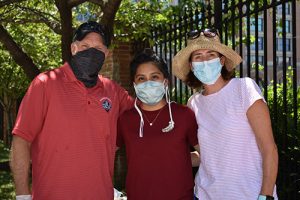 The Volunteer Program is currently accepting volunteers to support the programs and services offered by the Center. During this time of corona virus pandemic, the Center has adjusted its operating times and the responsibilities of volunteers.
The Father McKenna center has a small paid staff. Volunteers remain essential to providing the care and accompaniment that is the legacy of Father Horace McKenna. Thankfully, The Father McKenna Center is graced by hundreds of volunteers each year. While our services are reduced, the need for volunteers is still great. Can you lend a hand?
Day Program
Days: Monday-Friday
Time: 7:15-9:30 am or 10:15 am to 12 pm
Description: We are looking for volunteers to help us prepare, make, and serve meals, distribute clothing, and clean and sanitize our environment.
Roles:

Kitchen Assistant- 7:00 am to 12:00 pm

Assist Kitchen Manager by serving our guests restaurant-style in order to maintain social distance. This position requires extended periods of standing upright.

Meal Service

Assist Kitchen Manager by serving our guests restaurant-style. We ask volunteers to serve our guests as waiters so our guests practice social distancing.

Clothing Distribution- (twice a month)

Assist a FMC staff member to distribute clothing to our guests.

Cleaning/Organization Projects Assistant

Assist staff members with sorting and organizing clothing and food donations and/or cleaning and sanitizing our facility.
Food Pantry
Days: Monday to Friday
Time: 1:15-2:45PM
Description: We are looking for volunteers to help "shop" for canned goods in our Food Pantry for residents who reside in Ward 6. We also need help to distribute fresh produce, milk, eggs, meat, and bread. We ask volunteers to help set up and clean up the food pantry area as well.
Overall:
Volunteers must be 16 years or older to volunteer at The Father McKenna Center.
Volunteers must wear a mask at all times.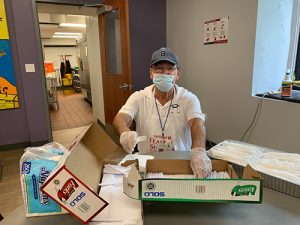 We take the health and safety of our Day Program guests, Food Pantry patrons, volunteers and staff very seriously. Everyone is required to wear a mask at all times. Temperature checks and health screenings are completed before entering the Center. Social distancing is practiced at all times.
Volunteer Opportunities for Groups:
The Saturday Volunteer Opportunities have been suspended until the pandemic has subsided. Please check back with us for great opportunities for your team or community-building event for your church group, youth group, alumni club, or even a group of families and friends.
Signup Genius links for June below:
Signup Genius links for July below:
Signup Genius links for August below: