"Cortez said things I needed to hear."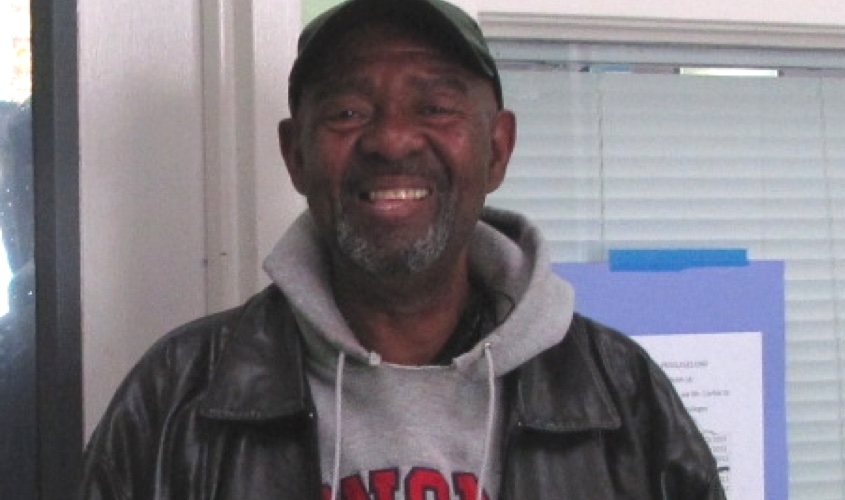 James Wells is another shining example of the role of the Father McKenna Center in the lives of men struggling with homelessness. After many years of struggling with homelessness, James has a new home – an apartment of his own in a senior citizen building near So Others Might Eat (SOME) on O Street, NW.
James is from Augusta, GA. He'd been married, raised his family and had worked blue collar jobs for a lifetime. And then he was divorced and homeless. He was able to find housing and was there for a couple of years. He ran afoul of the law and was jailed for six months because he had no money for bail. During his incarceration he lost his apartment and all his possessions.
Then one night a gang fight broke out in a park where James was sitting with friends just moments before the gun battle happened. He decided "I need to get out of here (Augusta)."
He began walking to South Carolina, and was picked up during a rain storm by a motorist who asked, "where you going?" "Columbia, South Carolina," James replied. But when they reached Columbia the driver was going on, and James asked where he was going. "Maryland" was the answer. "Can you take me to DC?" James asked. The man not only brought him to DC, but provided meals and cigarettes along the way, and then offered advice as to where to go in DC.
James ended up at the Central Union Mission in August 2014. And from there (the former Gales School at 65 Massachusetts Ave, NW) it is just a three block walk to the Father McKenna Center!
"I came with nothing. But I heard Cortez speak about getting an ID and the other key elements of his "pyramid" to success. I knew I needed help and Cortez was willing to offer me that help." (Cortez McDaniel is the Director of Men's Programs and Services at the Father McKenna Center, and his life's work is to help men struggling with homelessness to find solid ground and to move toward stability, productivity and meaning. Cortez developed a step-by-step guide to move from homelessness to stability. The steps look a bit like a pyramid.)
"With Cortez's guidance I have an ID card, I have SNAP (food assistance formerly called Food Stamps), I have applied for and been granted disability payments, I have health insurance. And now I have a place of my own."
Cortez reflected, "James was humble enough to take the help offered to him. He came to us and was willing to do what we suggested. He was anxious about how things would go, but he followed our lead and has made great progress toward his goals."
And now I am doing something I need to do for me – I'm studying for my GED. It will be a lifelong goal fulfilled."
All because he listened when Cortez spoke!