Every day the Father McKenna Center works with men who are "lost."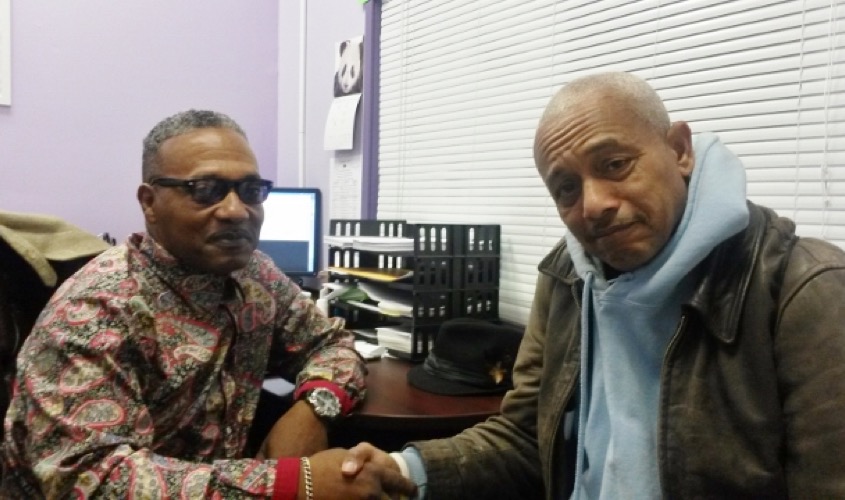 Reclaiming my life – a success story
For men willing to do the hard work of self-assessment and follow-through on the strategies they lay out for themselves, success is possible. Below is one such story, told by our guest, Syd.
Hey Cortez:
Let me tell you my story.
I gave up my apartment in February 2014, but I was waiting for a government contract position, so I thought I could stay with relatives. But the days turned into weeks, and I had worn out my welcome, so I chose to stay in a shelter. I went to Adams Place and stayed there. It was a whole new environment for me. It was a brand new experience for me to be in a homeless situation, and I learned a whole new vocabulary that included words like: SOME's; "801" "New York Avenue" and Franklin Park. [SOME is the social service agency serving two meals and offering a wide array of services to large numbers of the poor and homeless; 801 and New York Avenue refer to two of the men's shelters in the city operated by Catholic Charities; and Franklin Park is a major meeting place for many of the homeless people in the downtown area.]
After being in an environment like that I went into "survival mode." There were many lessons to be learned for me. I was slowly adjusting to "Shelter Time Zone" when everybody else was living in Eastern Standard Time Zone. It was very hard to adjust to living in and out of a small locker for your belongings. Many things I took for granted, but soon learned that the only way to survive is to "pray," and it made me a humble man.
When I was eating breakfast one day at SOME, I learned about the Father McKenna Center at Gonzaga High School. I visited a few times, then got hooked on the food. My routine became visiting SOME for breakfast, then walk down to the Father McKenna Center for coffee, to wash my clothes, another breakfast and a hot lunch. At the Center I was introduced to a "Reality Classroom" in the sanctuary called Life Skills Class, facilitated by Cortez McDaniel. It was like I had the chance to take a "make-up exam on LIFE." All the small things that I took for granted, and my arrogant personality began to take a back seat. I took a hard look at myself – I am nearly a senior citizen and the outlook for me was bleak if I kept going on the same path. I attended many of the Life Skills classes and participated in many exercises. Little did I know at that time, that it was meant for me to pay close attention, readjust my thinking and move forward.
The experience has been very helpful to me – it helped me focus on myself. It made me reflect on where I am and where I am going. There have been many trying moments along my journey, but I will survive. I know that God had to take me through this experience to make me a better man, and to teach me to "be humble, endure and move forward" back to a life as I once knew it – self-sufficient, independent, sustainable, employed and living in my own home, again.
The Emory Work Bed Program gave me a transition housing to be the "anchor" that I desperately needed to rest, re-focus, re-adjust re-position myself, and re-group my life to be a productive citizen again. And for the first time in a while, I am able to imagine myself in my own home, vehicle and rebirth to my business. It has been a never-ending journey.
I thank you for your companionship on my journey. You have taught me much, but mostly you were there for me when I needed you!
Syd
Prior to coming to The Father McKenna Center, Syd was employed by a major appliance chain and working toward a place of his own. He worked as an Assistant Case Manager with us for a year, then transitioned to being a Hypothermia Coordinator. At the end of the Hypothermia season, Syd retired from FMC and is now pursuing his creative endeavors in his own apartment. For over a year, he gave back and helped others as he had been helped! He is a Father McKenna Center success story!